Rocketry
In case you haven't guessed by now I am a keen Rocketeer, as in I like to design, build and launch model rockets. I've had some successes and some dismal failures, but at the end of the day you learn from your mistakes. I'm lucky enough to be part of a local group (NASRA) who don't take themselves too seriously. It's great fun, the people our great and some of the rockets are very impressive. I think that rocket building is strangely theraputic.
NASRA had 15 minutes (well more like three) of fame after being featured on the BBC Look East regional news program. Some photos from that day are available below.
Although NASRA are mainly a rocketry group, we have recently got involved in related areas such as rocket cars, model aircraft and remote controlled cars.
Please click here see a selection of my rockets.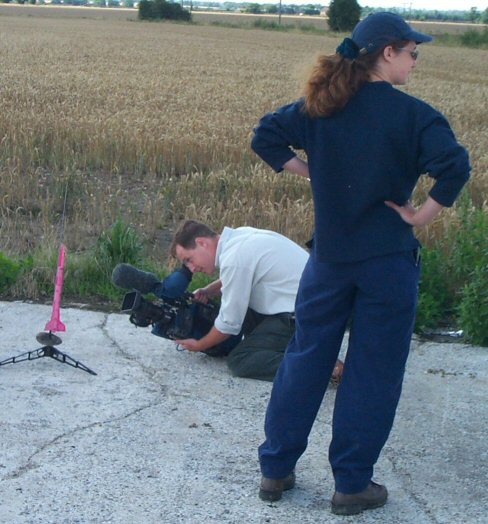 A BBC Cameraman filming the Barbie Rocket on pad. The Barbie rocket holds the NASRA altitude record. Unfortunately it was lost the day the BBC filmed it. It was later recovered months later, but was beyond repair.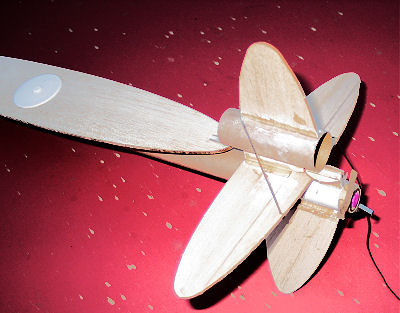 My most complicated kit rocket yet. This is an Estes Level 3 kit - the scissor wing transport. This work of art launches as a rocket, but the rocket part of the model falls off, and the wing turns 90 degrees and allows the glider part of the rocket to glide down to earth. On it's first test it worked like a dream.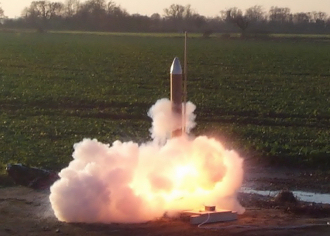 The Microscud rocket launching. This photo was taken by myself using an Epson 2 Megapixel camera (which is why the quality isn't great). Still very impressive though, it's probably our best still picture of a NASRA rocket. It was a cluster of D's using flashpan ignition.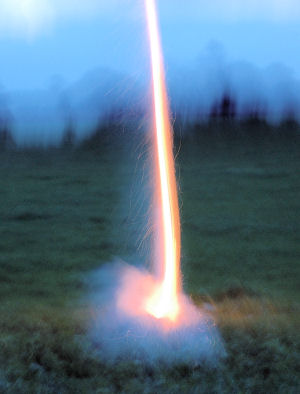 This was a rocket taking of at dusk. The picture was taken with my Nikon D70, handheld (which why there is quite a bit of blurring). I still think it's quite impressive.
To see more of my (and others) rocketry pictures you can visit the NASRA Media Browser.